Critical Hiring -Elevate Your Hiring with Expert Talent Mapping Services
Best Talent Mapping Service in India.
Welcome to Impeccable HR, India's leading Talent Mapping Services, your premier solution for conquering the complexities of hiring in the talent crunch scenario. In a world where new-age roles and talent shortages pose significant challenges, our comprehensive Talent Mapping Services empower hiring managers to make data-driven informed decisions and select exceptional professionals from the available talent pool.
At Impeccable HR, we understand the nuances of the competitive job market. We empathize with the hurdles faced by hiring managers in identifying and securing top-tier talent. This is where our expertise shines. Our team of seasoned research associates and headhunters leverage cutting-edge resourcing techniques to meticulously chart the entire talent landscape of your target company. We provide customized reports that not only showcase the visible talent but also unveil the hidden gems among passive job seekers. This insight is invaluable in your pursuit of sourcing high-potential individuals in your industry for future recruitment. It also equips you to formulate a strategic roadmap to address identified skill and talent gaps within your organization.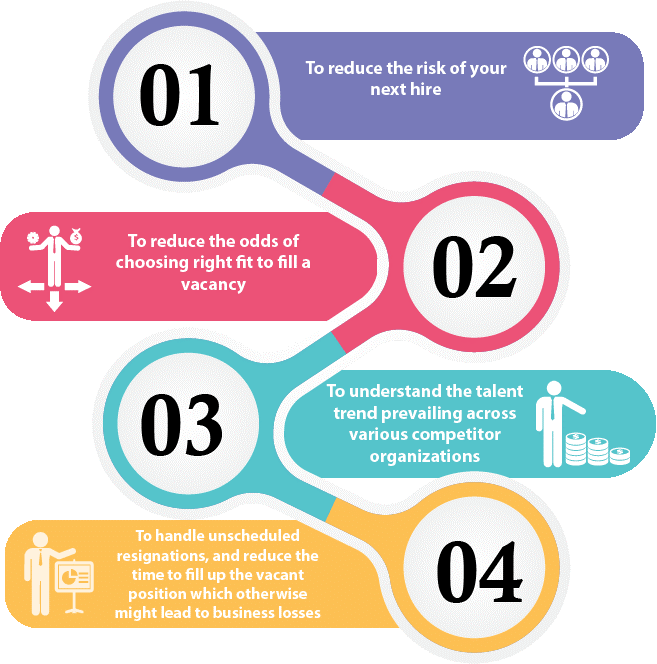 To meet your distinct talent needs, Impeccable HR offers a range of impeccable services, including:
In-depth market research and analysis to identify talent gap and hiring trends.

We delve deep into the job market, conducting thorough research and analysis to identify talent gaps and discern hiring trends. This data-centric approach ensures that you stay ahead of the competition and secure the best talent for your organization.

Mapping key talent pools.

Our experts excel at mapping key talent pools, enabling you to precisely pinpoint high-potential candidates. We also conduct a meticulous analysis of your competitors, ensuring you gain a competitive edge in the talent acquisition arena.

Customized talent reports.

Our tailored reports provide actionable insights and recommendations that align with your unique needs. We offer a well-defined pathway to effective talent acquisition, guaranteeing that you not only secure top talent but also upskill and develop them for long-term success.
Why Choose Impeccable HR for Talent Mapping Services?
Opting for an executive search firm for Talent Mapping Services can be a game-changer for your organization. It empowers you to formulate strategic advantages that yield long-term benefits. With Impeccable HR's Expert Talent Mapping Services, you can save valuable time and effort for your hiring manager, allowing them to concentrate on other critical aspects of your organization's growth.
In a nutshell, when it comes to Talent Mapping Services, Impeccable HR distinguishes itself as a trusted partner in your journey to secure the best talent in the industry. With our seasoned research associates, headhunters, and data-driven approach, you can make informed decisions that will shape the future of your organization.
Don't leave your hiring to chance. Partner with Impeccable HR for unparalleled Talent Mapping Services and secure a brighter future for your organization.