Take a look at what our team members say about us !
Director's Speak:
We at Impeccable HR aim at delivering the best solutions to our clients' HR needs by providing the right alignment of HR in business and increasing productivity, ensuring good talent within timeline ensuring less attrition. We add value by providing analytical survey, market intelligence and mapping, which helps our clients to make right business decisions.
I am proud of my team and consider them as our assets. Probably that's why we have the lowest attrition within HR consulting space.
In the coming years, we plan to become prominent player in the areas of executive search, recruitment process outsourcing and HR advisory. Apart from increased headcount and turnover, our future growth plan is to become India's most respected, trustworthy, reliable, client-centric and leading provider of HR solutions. We also envision becoming the most preferred employer who provides best workplace environment and opportunities to learn and grow.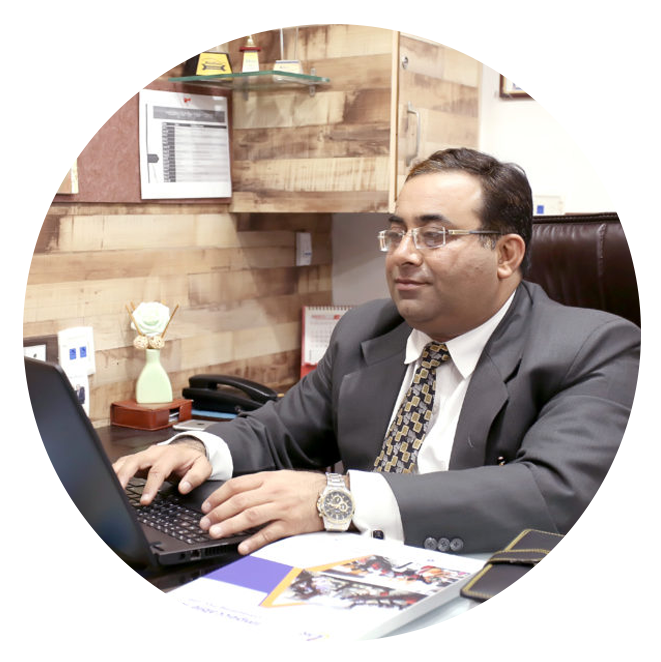 Team Speak:
It's been more than 3 years working with impeccable HR. This stint so far gave me an enormous opportunity to learn and grow. Team and management are always determined to provide a platform where you can enrich your skills through various training and session which leads you to a better version of yourself personally and professionally as well. Impeccable HR is like a knitted family where you can excel tremendously with support from management. I feel honored to work for the organization.
Impeccable HR is the ideal Launchpad for your career, propelling you toward your dream destination. With strong senior support and diverse training opportunities, it hones both soft and functional skills. I've been part of this company 2014-2023, and I even re-joined in 2022 because of its culture and growth-oriented vision.
Join Impeccable HR to embark on a rewarding journey where your aspirations become a reality.
I feel fortunate to be part of Impeccable HR, a company that values employee efforts and contributions. The kind of support employees are getting from their management is highly appreciated. This company provides an excellent work environment with good learning & earning. They provide excellent Rewards and Recognition. This is a great place to work, they care about and supports its employees & also challenge them to grow with the company. Complete work-life balanced organization
I am so glad to be a part of this organization. I would like to stay here for the long term.
I joined Impeccable HR in June 2022 month and this is the 2nd job in my career. I have a great journey. Within 1 year, I have learned lots of new things in Impeccable HR as they are strong in the internal processes and training sessions. I had a wonderful experience at the Annual R&R Day held in April 2023. They always value each contribution.
I joined the Organization as Senior Executive-HR in 2021. Impeccable HR is a wonderful platform for learning and earning. There is always cordial support from the senior management and Work-Life Balance is maintained perfectly. Flexible working hours, attractive incentives, appraisal cycles, and cultural engagement programs are the major keys to motivation for every employee in the organization. Impeccable HR always aims in bringing Talent Acquisition to the next level.
For around 4 years now I have had the privilege of being part of the Impeccable team of Impeccable HR. Here, you would get exposure & opportunity to enhance your existing skills and acquire new ones. The company's commitment to professional development was evident through various training programs, workshops, and mentorship initiatives. One of the aspects that truly sets Impeccable apart is its emphasis on fostering a transparent & supportive work culture. My tenure with Impeccable HR has been an incredible journey filled with invaluable experiences and significant personal growth. I am grateful to be part of a platform to thrive, learn and contribute to a dynamic team, and I look forward to continuing my growth alongside this Impeccable team.
The best part about Impeccable HR is that the management & the seniors are very approachable and are always ready to extend a helping hand. In my tenure with Impeccable HR so far, with the opportunities and training provided, I was able to manage these confidently and grow myself into knowledgeable and experienced professional. I would say, at Impeccable HR, you are groomed in all aspects of development. I loved to come to work every day as it gives me happiness and adds a sense of fulfilment to my life. Proud to be an IMPY!
I worked for more than 4 years I am associated with Impeccable HR, I thoroughly enjoyed my work always. I love here the winning workplace culture, Environment & the kind of support from Management which offers employees to achieve their goals & success. Here employees are being rewarded & recognized for their achievements, hard work & sincerity. The exposure that I have gained here has been immense.
Impeccable HR is an organization where you can decide your own pace of growth. It's a place for those who are self-driven & focused. It is an organization that gives you many opportunities to excel and also empowers you to achieve your goals.
I have been working since 2011 and have experienced this. I can confidently say that being a part of Impeccable HR is a really fulfilling and enriching experience
All impys have access to advanced systems & data management tools like cloud-based ATS. Management at Impeccable HR is always open to adopting newer technology for better service delivery. The top management is open to suggestions at all times. This approachability makes me feel heard and gives me a sense of belonging. I am proud to be a part of the Impeccable family.
Impeccable HR is a much-esteemed organization with highly equipped infrastructure facilities. I have been working here for the last 15+ years. I always found ample guidance & support from management which has helped me grow in my career, a factor that has been consistent throughout these years. I am proud to be an Impy!
I have been associated with Impeccable HR since 2018. I have joined at the Executive level and have grown in the system and reached to Practice Head level within a short span.
Impeccable has given me ample guidance, support, recognition, appreciation, and many success stories that will always be commemorated. This organization always strives its people to do better and gain recognition.
I am proud to be a part of this organization.
"I have been associated with Impeccable HR Consulting since 2012 and feel proud to be a part of it. Impeccable HR Consulting is a professionally managed corporate set-up, where you can "learn and earn". The company offers good benefits and also provides additional training to us to continue learning new skills. Its work culture helps the employees to learn more about the recruitment industry. I am happy to be a part of this organization."
Explore more trusted reviews